If your looking for back-up power from your solar system during a power outage, batteries are required. Batteries have come a long way since the days of off-grid deep-cycle cells powering a cabin in the woods. With Lithium ion, Lithium Iron Phosphate and variations of sealed lead-acid, there are a lot of options.
Lithium Ferrous phosphate (LiFePO4)
Lithium Ferrous Phosphate batteries have many of the same attractive features of Lithium Ion (common in cell phones and laptops) batteries without the explosion risk. LiFePO4 batteries can be fully discharged without damage, have much longer life than Lead Acid batteries, hold a charge for long periods of time without use and recharge quickly.
Blue Planet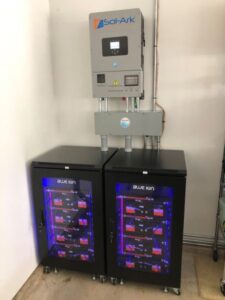 Hawaii-based Blue Planet Energy makes top-of-the-line LiFePO4 batteries and offer the best battery warranty (15 years or 8,000 cycles) for solar batteries we've seen. We have a 16 kWh Blue Ion 2.0 backing-up our shop and have ran tests during "The Great Shakeout" living on these batteries and solar for multiple days with no problems. These batteries come with online monitoring so you can access state of charge and other important info in real time. They also have high current capacity to provide power to high surge current equipment. For a battery bank that will last for years, Blue Planet is the way to go. They come in increments of 4 kWh starting with 8 kWh (minimum size).
The Discover AES LiFePO4 Solar Stationary Battery line is another option we offer with great credentials to back it up.  Besides being built by one of the largest and oldest North American battery manufacturers Discover AES LiFePO4 batteries offer smaller solar battery incremental options than other LiFePO4 batteries. The Discover AES 42-48-6650 is a 6.6 kWh 48V single battery that can communicate with Schneider and Sol-Ark inverters, is compact and wall-mountable, and comes with a 10-year warranty. We're also a big fan of the Discover Lynk battery monitor which provides an LED state of charge indicator that can be mounted remotely for instant visual access to the battery charge level.